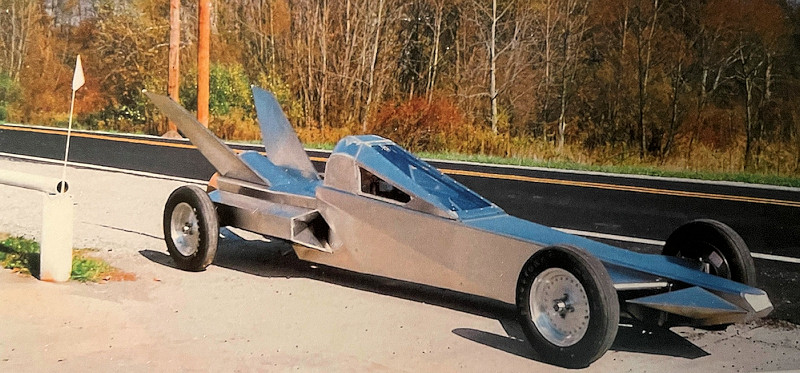 Another of the off-of-center stunt/exhibition vehicles for the indoor Monster Truck events was the "Brilliant Bob" comedy stunt act. For this, Tim utilized the remnants of the Jet Jumper after its' final crash, particularly the roll cage/driver pod assembly.
The concept centered on the vehicle blowing up, breaking in half, with the parts spinning around after they hit the ground. The stunt utilized an air cylinder firing downward to blow the vehicle 7-8 feet into the air, while concussion mortars and a pair of flash bombs went off simultaneously to give the impression the vehicle had exploded.
Tim says, "I always remembered 'Super Dave Osborne' (Bob Einstein) and his crazy failed stunt comedy act, and thought it would be fun to try to emulate him in a live action show.
"The way the car and the act were structured, the audience for all intents and purposes thought it had blown up. This act did not hurt my body as much as the Jet Jumper. I did the 'Brilliant Bob' stunt act for three seasons.
"The act was a pure parody - a spoof - and something that had never been done before at indoor stadiums. It was, pure and simple, a stunt man wanna-be guy act that went out in front of the crowd but was unsuccessful, but I didn't mind it!
"We had a lot of fun with it, because no one knew it was me in it. I play the stupid role during interviews - it was just...FUN! Best of all the crowds loved it, especially after I emerged from the cockpit intact!"
Gallery