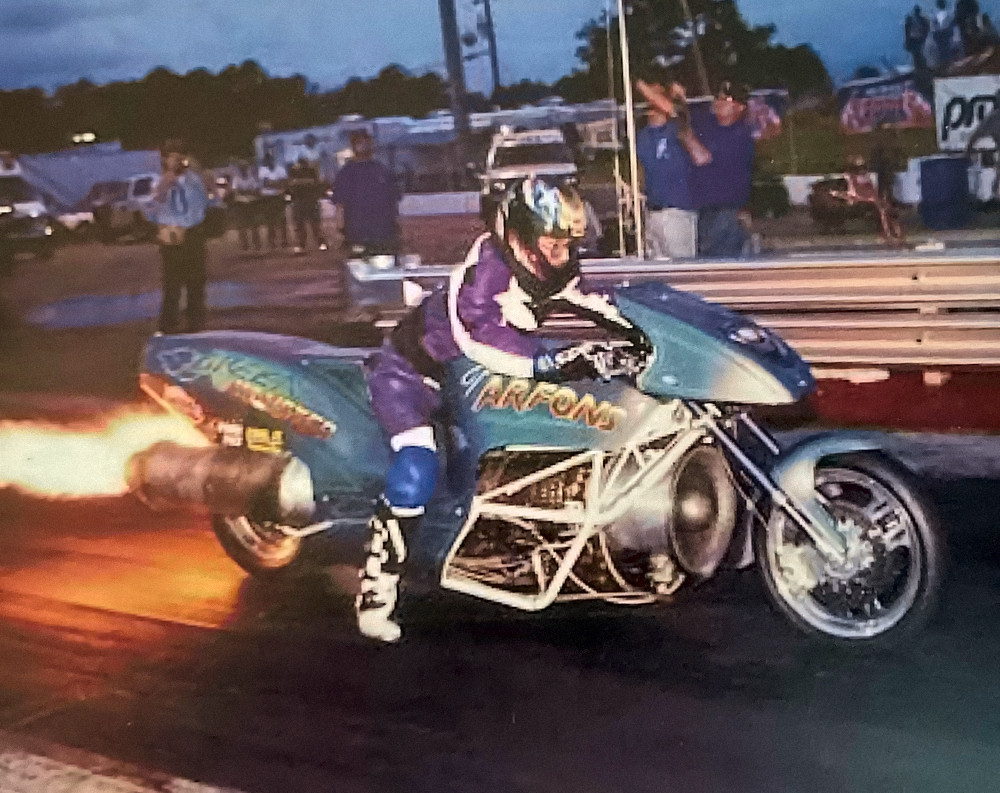 The Jet Motorcycle was a complex vehicle, built in 1999. It was, according to Tim, the most expensive he had ever built to that point.
It utilized a Top Fuel motorcycle-type frame, where the driver was in a "laid down" driving position over the bike, and used a GE-T-58 turbine for power. While the Jet Bike used a Top Fuel motorcycle frame design, it had the swoopy appearance of a Pro Stock Motorcycle, making it a hit with the fans.
"It was the most expensive, and probably the most technologically advanced vehicle I ever built," said Tim. "In addition to the Top Fuel Bike-like chassis, and the T-58 turbine, it featured the first twin afterburners for turbines ever built (one engine and two afterburners).
"The afterburners were unique in the fact they were separated by the rear wheel, and also had to be low to help the bike's overall center of gravity for stability. It also took a great deal of engineering to design a system to light the two individual afterburner tubes.
"We took it to Darlington Dragway in Darlington, S.C. for its' first runs. It tripped the clocks with a record of 194 mph that day. Not bad for the first time out of the trailer! My driver, Mike West, did indoor shows with it, but he wasn't comfortable on it, so I sold it. Reportedly, it is still running to this day in Europe somewhere."
Gallery