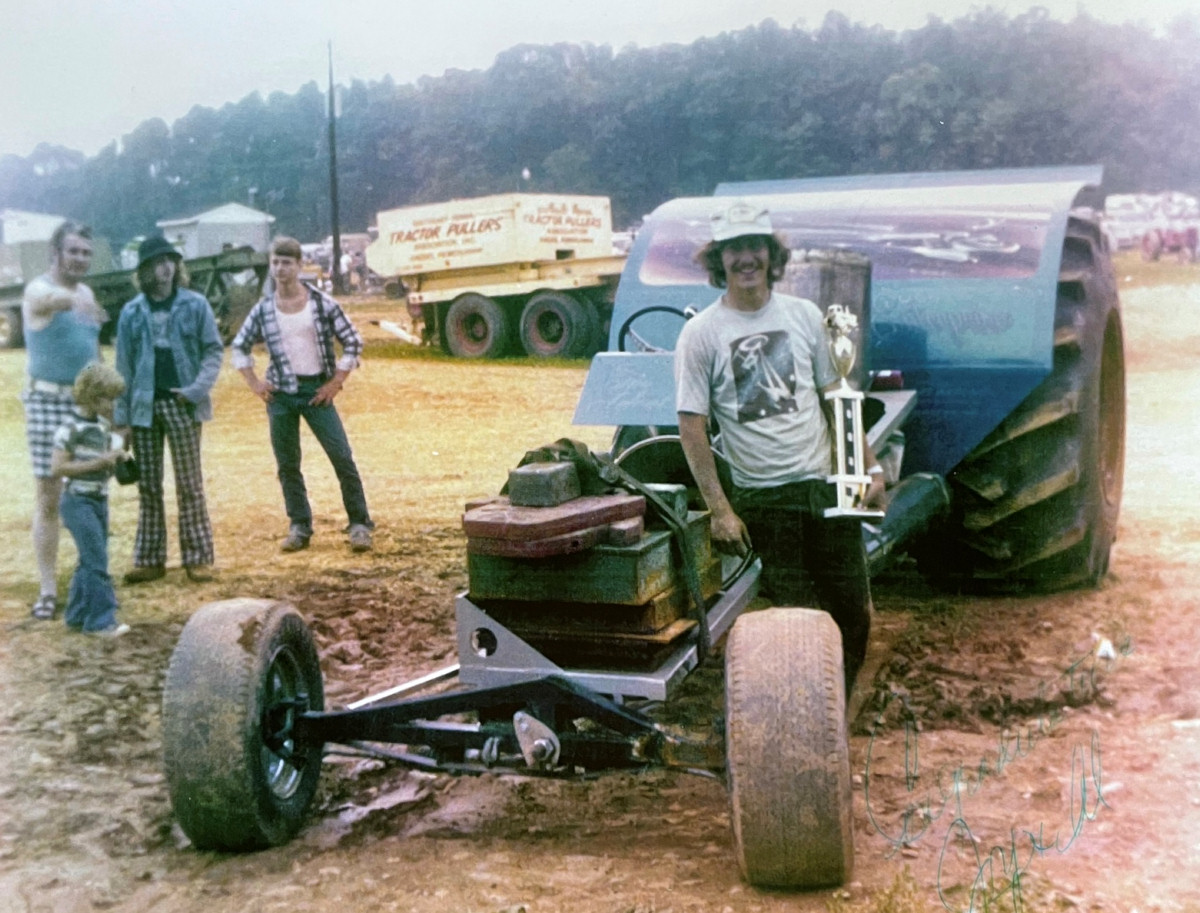 The "U.S.S. Enterprise" was Tim's first pulling tractor, following his "Green Monster" turbine-powered dragster. Too many close calls with the dragster convinced father Art that pulling could be a safer outlet for Tim's competitive instincts. Using the GE T-58 turbine from the race car, along with other components, Tim and Art built the new tractor for the 1977 pulling season.
Since Tim was a devoted Star Trek fan, naming the tractor was easy, and with airbrushed artwork by Paul Schmidt of Akron of the starship USS Enterprise pulling a weight transfer sled through space, it quickly became very popular, particularly with younger fans.
The GE T-58 turbine engine was used in a wide variety of military and civilian helicopters, and saw its first service in the U.S. Navy's Sikorsky SH-3 "Sea King" in the mid-1950s. Tim and Art built upon the experience of Art's "Green Monster" pulling tractor powered by a Lycoming T-55 turbine, and fellow puller Bob Bussey's "Blue Angel" tractor (also built by Art) powered by a Lycoming T-53 turbine.
Unlike the Lycoming turbines in his father's and Bussey's tractors, the GE T-58 turbine had a quick throttle response, and Tim often used that feature to his advantage. Also a plus was the use of a Dana 60 rear axle, coupled with a pair of planetary gear sets on the outboard end of the axle shafts. The planetary gear sets acted as a force multiplier, reducing the stress on the Dana 60 axle - which was considerably lighter than the farm tractor final drives used by other competitors. This was similar to the axle arrangement of the "Green Monster," and they were among the very earliest uses of planetary gear sets in pulling.
The tractor debuted on the National Tractor Pullers Association (NTPA) circuit in Ottawa, Ont., Canada in June 1977. It was especially competitive in the 5000 and 7000 pound Modified classes, less so in the heavier 9000 pound Modified and 12,000 pound Unlimited classes, where it was at a distinct power disadvantage. But the 1400 horsepower turbine was at home in the lighter classes, where its' smooth application of power, and the ability to be throttled were most effective.
Probably the highlight of his pulling tractor career was a pull-off in the 12,000 lb. Open (Unlimited) Class at the NTPA pull at Green Bay, Wis. in 1981. Tim, his father and Tim Engler squared off for all the marbles, after each made a "full pull" of 300 feet. Tim was a distinct underdog in the match-up, and when the dust cleared, Tim was the upset winner. Interestingly, the first person to greet and congratulate him was none other than Bob Chandler, the innovator and creator of the famed "Bigfoot' monster trucks.
Gallery
Articles