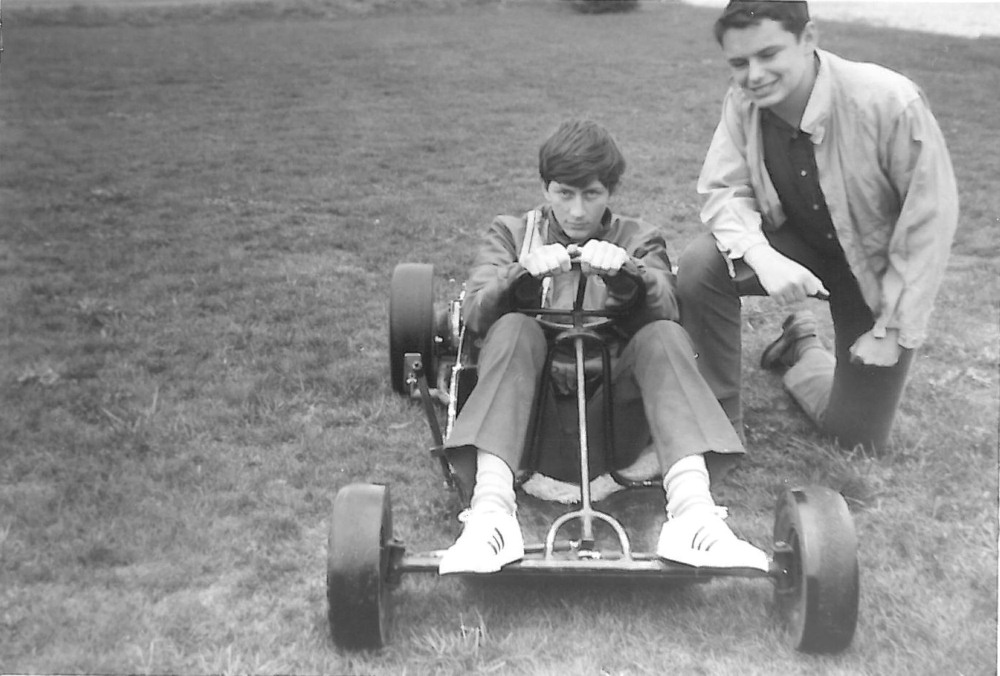 From the time he was born in 1955, Tim Arfons was exposed to a work ethic that combined speed, excitement, showmanship and "thinking outside of the box."
Growing up under the watchful eye of his father, the legendary three-time outright land speed record holder, Art Arfons, it was probably only natural Tim would follow his father's path. As he grew to adulthood, Tim watched and later began to participate in his Dad's quests in the famed "Green Monster" to be the "Fastest Man on Earth" on the Bonneville Salt Flats of Utah.
As Tim hung around the his father's shop on Pickle Road in Springfield Township, Oh., south of Akron, he began doing very basic tasks around the shop, such as sorting nuts and bolts and sweeping the floors. He was slowly given more responsibilities, and learning from his father.
Like so many other youngsters with famous racing fathers, Tim always knew he wanted to be a racer, and to go fast.
As a young adult, Tim had fully acquired the "need for speed," and while he was working at Forest City Auto Parts, he and his father built a front engined dragster, powered by what would become a very familiar power plant – a General Electric T-58 turbine engine. His father had wanted to build a turbine-powered dragster, and he bought a proven front-engined Top Fuel dragster chassis from Jim Walther, a well-known driver from northeast Ohio.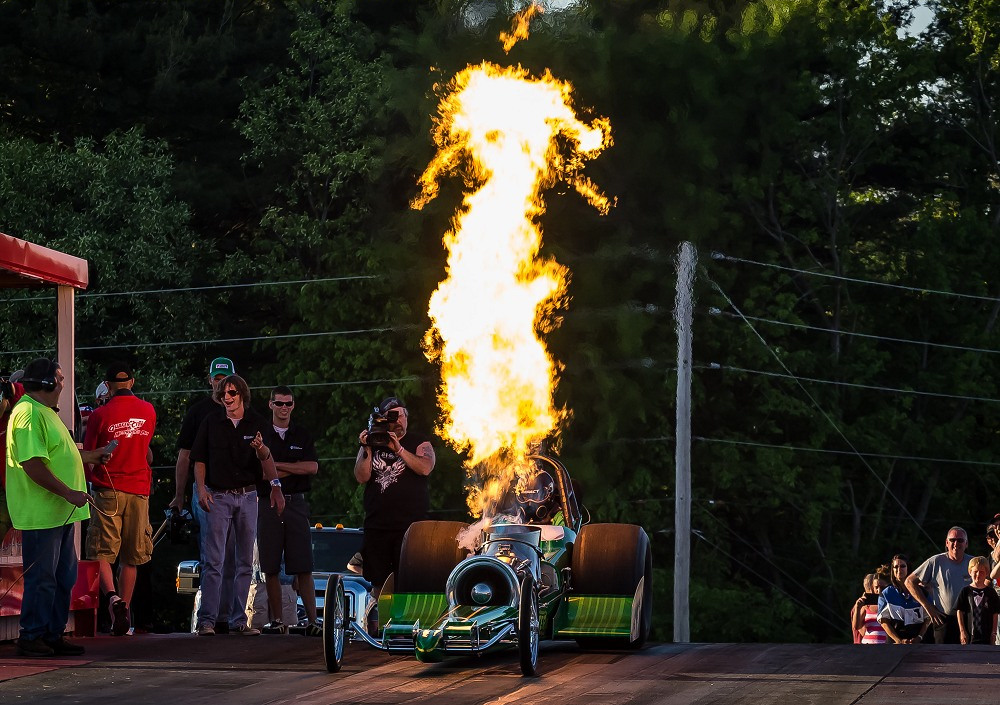 Tim worked with Art to build the car, and was the first one he drove. However, several close calls on the track in the early-1970s made his father tell Tim he needed to find a different venue for his competitive spirit. One of those close calls was a bit of agricultural racing at West Salem, Ohio's famed Dragway 42 track, where Tim went into the grass at 200 mph, and emerged unscathed, since the guardrails were well off the track surface.
By the early-1970s, Art had dramatically slowed his competitive spirit. In 1973, he joined forces with North Canton, Oh. tractor puller, Bob Frock, to put a Lycoming T-53 turbine into a Cockshutt 40 tractor. Art found the slower pace of competition was enjoyable, and challenged his still competitive spirit. By the next year, Art had built his own "Green Monster" tractor – built around a tubular chassis and a narrowed truck axle with planetary gears on the outboard ends of the axle shafts. It too was powered by a T-53 turbine, and won the 7000 lb. Modified class at the prestigious National Tractor Pulling Championships in Bowling Green, Oh., sanctioned by the National Tractor Pullers Association (N.T.P.A.). The following year, the T-53 has been replaced with a Lycoming T-55, and Bob Bussey from nearby North Canton had put the T-53 into his puller, which also quickly became a winner. Art's experiences and successes on the NTPA circuit helped him turn Tim toward the pulling circuit as well.
In 1977, Art, with Tim's assistance, built the unique "U.S.S. Enterprise," named for the Star Trek starship (because to Tim's love for all things Star Trek), and was an instant favorite amongst the younger fan base. The tractor was unique because Tim's driving position was offset to the right side of the tractor, since Tim was a "leftie." The Enterprise was very consistent, regularly finishing in the final top ten in points in the 5000 and 7000 lb. Modified classes in competition on the NTPA circuit. The Enterprise was mostly out-powered in the heavier 9000 lb. Modified and the 12,000 lb. Unlimited classes by multi-engined, supercharged, alcohol-fueled tractors, but in perhaps the pinnacle of his pulling career, Tim took an upset win of the 12,000 lb. Unlimited class at a 1981 event in Green Bay, Wis., by winning a pull-off against his father and Tim Engler.
In the early 1980s, Art and Tim joined the United States Hot Rod Association (USHRA) tour and President/promoter Bob George, competing at pulls in indoor arenas which also featured Monster Truck races. The Arfons team became featured big name attractions at the USHRA events, and soon another side of Tim emerged – showman.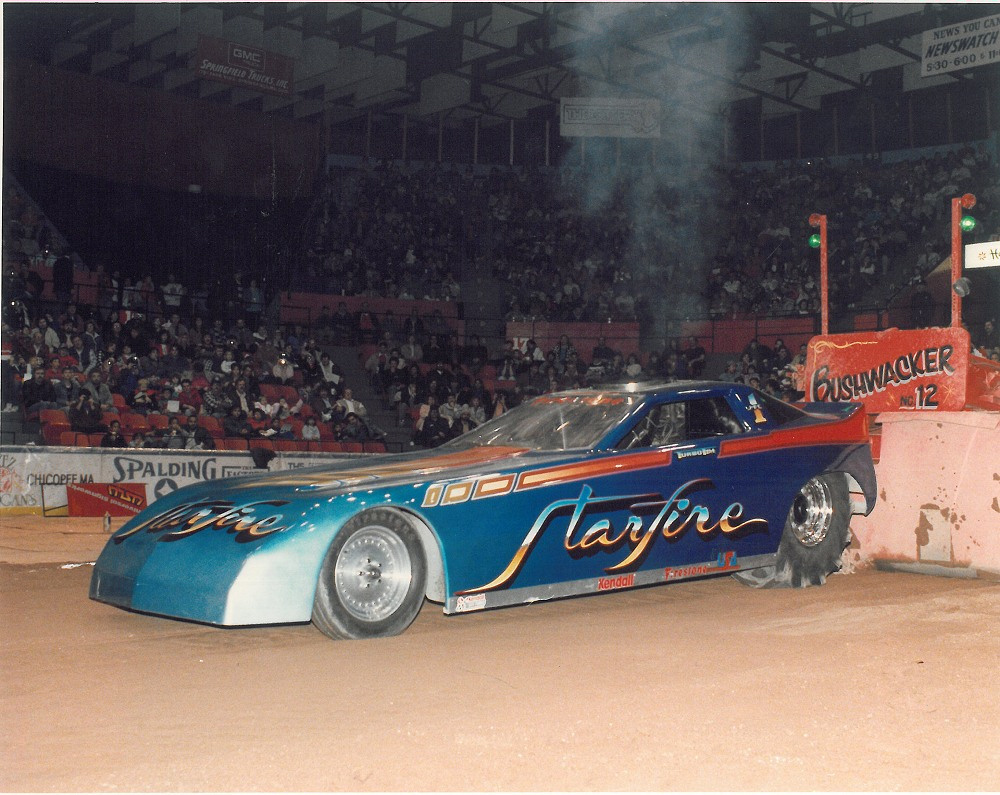 He convinced Bob George to let him build a drag racing inspired Funny Car pulling vehicle for exhibitions. George quickly agreed, and Tim built the "Green Monster" 1983 Camaro puller, and the fans loved it. That eventually led to a class being created for Funny Car pullers, and Tim in the Camaro, and later in the 1985 Corvette "Starfire" Funny Car, pretty much dominated the class.
With his use of turbine engines in his vehicles, he acquired the nickname of "Turbo Tim" from the noted show car air brush painter, "Greg of Akron" (Greg Pussehl) – and while technically inaccurate, it had a high performance angle to it, and it stuck.
After seeing that his growing role of showman was enjoyable, Tim moved to building and performing with a long series of exhibition vehicles, starting with the "Kamikaze" quad runners with T-58 turbines. Across the next ten years, Tim field a succession of unique, crowd pleasing exhibition and stunt vehicles. The Jet Jumper, Jet Barstool, "American Thunder" Jet Jeep, "Armageddon," and the "Brilliant Bob" stunt act wowed crowds across North America and Europe.
But getting married and becoming a father made Tim realize he needed to change the course of his career again.
He realized many racing events were being cancelled due to rain or suffered from long rain delays, making the spectators unhappy. And again, turning his head toward "outside the box" thinking, he formed the Akron Turbine Group to build track driers. While there were jet track driers in use, they were cumbersome affairs mounted on trailers, difficult to transport, store and maintain.
The Arfons solution was to utilize compact turbines which were easy to operate, had self-contained starters, could be easily mounted (and removed) from full-sized pickup truck beds and required only a single operator (the truck driver).
Over the years, the Akron Turbine Group continued to refine the driers and today they are found in use on major oval tracks, road race courses and dragstrips in North America, and internationally.
Again, thinking in an "outside the box" mode, Tim and the Akron Turbine Group found another home for the turbine driers – the construction industry, which had sought a means to quickly dry highway and other construction sites, and regain as much downtime as possible following inclement weather. The construction industry also found the driers could also double as heaters, to quickly bring the temperatures of graded surfaces up to specifications in colder weather conditions, and allow work to continue, when it might otherwise be halted.
Racer, showman, innovator, businessman, father. All of these titles describe Tim Arfons – a very successful, multi-faceted man.