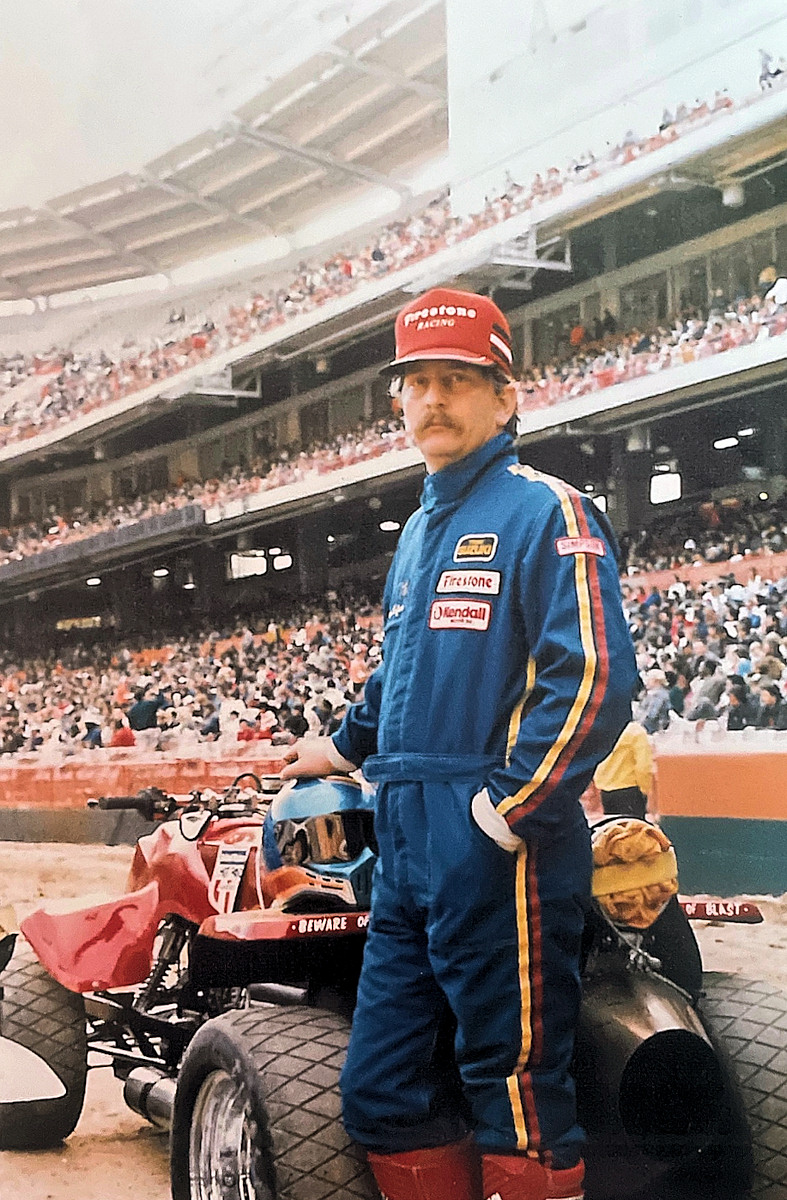 The "Kamikaze" exhibition stunt vehicle was built in 1987 at the introduction of the ATV craze. Again, a chromed GE T-58 turbine powered the little 4-wheeled ATV, and the outrageous nature of the idea drove the crowds wild.
"I was doing the larger arenas at the time, but my promotor, Aaron Polburn wanted to do the smaller arenas, as well. The smaller quad runner was a perfect size for those buildings."
"I just thought it would be bad as hell," says Tim. "I was sitting on top of a jet engine, and the handle bars! It was kind of like Wile E. Coyote! "It was something you could run indoors and I thought the crowd would love it. Everyone said, 'How do you have the balls to sit on top of a jet engine?
"For a year, I campaigned both the 'Starfire' and 'Kamikaze,' touring the country in my converted school bus with 'Kamikaze' in an old dragster trailer that I towed behind the bus. I did 2 acts in every show. Eventually, I parked 'Starfire' because it was just easier to travel with only 'Kamikaze.'"
Tim says that the "Kamikaze" was the turning point to his career, and was the best vehicle he ever built. "It was a great vehicle," he says. "It provided me with the capital to start my business, Akron Turbine Group.
"It was almost like having a license to print money. We booked it everywhere - the U.S. and Canada, Hawaii, Europe. It was a ticket to see the world! We could pack it in a crate, and ship it on a plane anywhere.
"Funny...31 years later, some of them are still running in other parts of the world!
"I think the quad runners set the standard for indoor exhibition vehicles because they were small, and the idea was outrageous."
Tim built three "Kamikaze" ATVs - "Kamikaze 1," "Kamikaze 2," and then the "Green Monster Quad Kamikaze."
Gallery
Articles