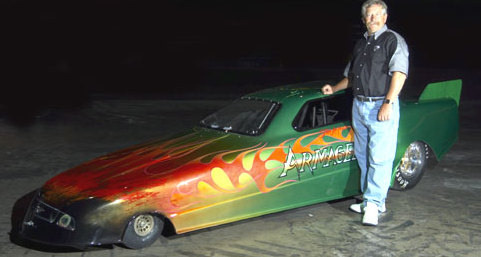 "Armageddon" was the last indoor exhibition vehicle built by Tim in 2003.
Again, it was constructed around a GE T-58 turbine engine covered by a 3/4-scale Mustang Funny Car-style body. Tim built the "Armageddon" for Feld Entertainment, which had earlier bought the USHRA Monster Truck show program. Feld asked Tim to build a jet (turbine) powered car which was different, and exciting to be a featured exhibition act for the indoor events it had scheduled in Europe.
Tim says, "Feld knew that I had the most experience with the GE T-58, and could supply them with what they needed for their European Tour.
"I hooked up with in infamous 'Greggo' ('Greg of Akron') for the paint job, and together we created a wild, fireball effect - appropriate for 'Armageddon.' Little did I know it would be Greggo's final paint job for me.
"'Armageddon' was the hit with the fans the folks at Feld had hoped for, and it was a good vehicle, technically, as well. It handled very well doing turns in the tight quarters of indoor arenas - something that was not easy to do. I made certain the car would put on a huge fire show, and of course, the crowds loved it! It toured not only in Europe, but in the U.S. as well."
Gallery